CUSTOM SHOP
Short Story
Channel One
Channel One meant to switch from a simple acoustic Preamp, (which, having a clear and extended bandwidth, lends itself very well to the control of an acoustic instrument), to a Boost or an Overdrive, by adjusting the Gain and the Volume, all then colored to your liking helped by a bass and treble tone control (+ - 15db). The addition of a selector with a cut on the mid frequences characterizes the sound, (someone semplified by telling me that Fender or Marshall tone ndr does is the easiest way to explain it). Except the use of it as a boost with a very low gain, at a quarter you start to have that characteristic and barely dirty blues sound, (typical of the good old days) that reveals all the nuances of the player's hands and and the pickup used. By setting the gain knob over 12 o'clock it is possible to have a good level of saturation, enough for a mild lead sound.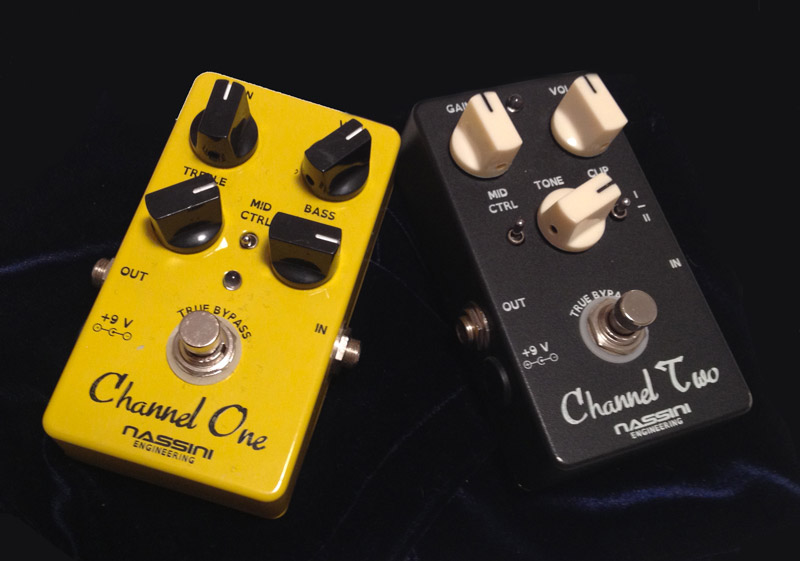 Channel Two
It is the second channel of the same ipothetic amplifier, but with definitely more "quarrelsome" characteristics compared to the previous. Starting with the gain below 9 o'clock you get a light crunch, but at 12 saturation becomes relevant, with a considerable sustain, but always very transparent at pickup changes, and very quiet in terms if noise floor. The Tone control helps to make the sound more or less aggressive on the high frequencies. There is the same selector for the middle frequencies, that behaves just like on Channel One. I added a compression-like control, which results flat in the central position, while in position one and two squashes the clipping where you want saturation, but always in a controlled way.
Both pedals exclude the electronics with the True Bypass mode of the signal via mechanical switch. The power supply is the standard one with battery or external power supply ( 9V with + central) if necessary both accept voltages up to 15/16V without changing their tone. Both the electronic part and the assembly are made entirely by hand as shown in the images.
The reason for making these pedals isn't commercial, in fact at the time I only built these two models, but it was rather a personal need which, over time, also met with a positive feedback from many other colleagues who decided to commission me for the realization of one or both.
In this regard if interested please contact me: info@nassiniaudio.it
I have to thank Michele Poncio Belleri for the realization of the two demo videos since, even if over the years I've never missed the desire for sound research, in the meantime he has learned to play much better than me! Thank you Poncio!